Timeless Location
This unique site is located at the foot of the Brooklyn Bridge, 50 paces from the shoreline, nestled between the elegant residential neighborhood of Brooklyn Heights and the sophisticated artistic community of DUMBO (Down Underneath the Manhattan Bridge.) Directly in front, rising beyond the East River, lies the most glorious skyline in the world.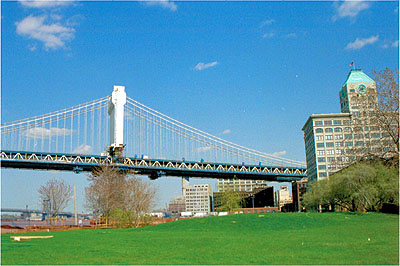 Landmark Location, New Construction
Fulton Landing Condominiums retain the character of the historic district, rebuilt with original bluestone sidewalk and a landmark brick façade. The architects have taken maximum advantage of this unique location to create large, two and three bedroom homes with floor plans that range from 1,400 to 2,200 square feet.
No two layouts are the same. Most feature balconies or privately walled terraces of 128 to 2,515 square feet.
Each is designed with maple flooring, over-sized doors, insulated landmark wood windows and custom light fixtures. The condominiums are pre-wired for cable and internet access.
Kitchens are outfitted with state-of-the-art refrigerators and stainless steel range ovens, dishwasher, microwave ovens and Corian or granite countertops. Every apartment has at least two full bathrooms equipped with designer fixtures and ceramic/mosaic tile, and a laundry room. An indoor parking space is included in the sale of each unit.
Other Building Amenities:
Elevator
Compactor
Video Intercom Systems
Central air conditioning and
Individually controlled heating

Easy Transportation
Fulton Landing has retained the same easy access to the rest of the city that attracted its original settlers and continues to be a hub for public transportation.
4 Water Street is convenient to the 2, 3, 4, 5, A, C, M, N, R, E, F, B, D subway lines and is served by the MTA B25 bus, which provides a direct connection to more than a dozen bus lines extending throughout Brooklyn and Queens.
Private, Indoor Parking
Each condominium unit is equipped with a private parking space located indoors, at the ground level. There are nearby side street entrances to the Brooklyn Queens Expressway or to the East River crossings of the Brooklyn and Manhattan Bridges and the Brooklyn-Battery Tunnel, as well as to the neighboring communities of Williamsburg and Atlantic Avenue, Cobble Hill, Park Slope and Fort Greene/ Clinton Hill. A growing concentration of megastores such as The Home Depot and Costco are ten minutes away in Sunset Park.
Vibrant Street Life
When going out, you may find it difficult to decide among an expanding array of restaurants. The famous River Café is moored at the Landing. Steps away you will find Grimaldis (previously Patsy's), one of the City's finest brick oven pizza restaurants. One block away on Water Street is the shop of Jacques Torres, chocolatier to the city's finest restaurants and hotels. Within a few minutes travel you can have your choice of the variety offered in Brooklyn Heights, the Middle Eastern fare on Atlantic Avenue, the acclaimed new restaurant row on Smith Street, Peter Lugers Steakhouse in Williamsburg or the world famous cheesecake at Juniors Restaurant.
Billions of dollars were invested in Downtown Brooklyn in major amenities such as Metrotech, the Brooklyn Marriot Hotel, and Atlantic Center and on the preservation of the bridges that connect Brooklyn and Manhattan.
DUMBO Arts and Waterfront Parks
There have been many improvements made to the neighborhood since the Fulton Ferry Historic District was established in 1977.
The Empire Fulton Ferry State Park was created; vacant factory and warehouse spaces have been reclaimed for loft living and new stores and restaurants opened to serve the growing population.
For more information about Brooklyn Bridge Park see http://bbpc.net and http://bbpdc.org.